Bali Villas Rental and Sale, BEST DEAL!!!
+62 361 772233
Posted on 23 Oct 2013
Canggu is the best place to find any exclusive private villas. The exoticism of Canggu through its beautiful nature is a blessing. Like one package of relaxation, Canggu provide the best stay in Bali with full of local experience that you won't be forgotten. You can feel the essence of traditional village, which has the rhythm of art and culture and also local genius. It is combined by amazing natural view. In Canggu, you will get the stunning picturesque of beach and terrace. In Canggu, beaches are the most favorite. Especially for surfer who want to find wild surfing sensation, Canggu beaches are their second home. They will find the wild level of wave and stunning sensation of Bali sunset in one time. It makes Canggu is priceless among exclusive tourists who love to search tranquility place.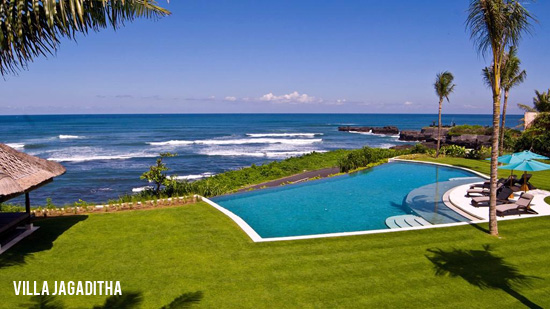 Two recommended villas to complete your vacation are Villa Jagadhita and Villa Taman Ahimsa. Both has different character, but still unique and glamorous. Both also adopt all benefit of Canggu into their architecture, ambiance and hospitality. Canggu becomes their prominent inspiration to cover all characteristics of villa. Let's we compare these two lovable villas in Canggu area. Firstly, Villa Jagadhita can be your solution for the consideration of best private place overlooks the Ocean view. This high-end property stands stunningly on the expansive landscaped garden, which brings the view sensation of beach. The most breathtaking moment is 180-degree view of the Indian Ocean with sound rock of the wave, and spectacular sunset color. Villa Jagaditha adopts all benefits of blue Ocean into its villa style.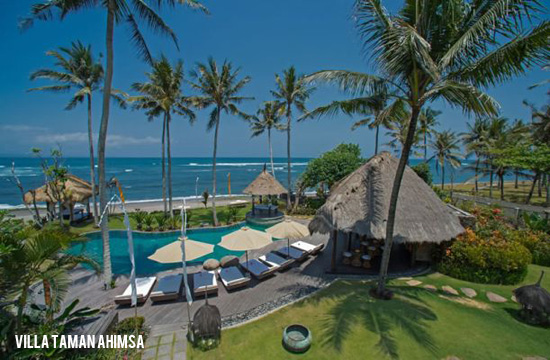 Villa Jagadhita provides six bedrooms with modern design and sophisticated furnishings. There is also air-conditioned media room with pretty views over the garden and fishpond completed with DVDs, Bose Home Media Surround Sound System and large, flat screen Aquos television. You can find a gym room with a Pro5 Adaptive Power Plate and Concept 2 rowing machine with Bose Sound Dock and also semi-outdoor steam & shower room located off the TV room. The living and dining pavilion is the heart of this villa, which has concept of open space with 360 degrees views.

Villa Taman Ahimsa could be another best recommendation. This villa also has concept of beachfront view villa. It brings the wonderful sensation of Ocean and Bali sunset. This seven-bedroom oceanfront villa is designed by combining the aesthetic style of Balinese architecture and also the modern style into building atmosphere. It sounds Villa Taman Ahimsa looks the same with Villa Jagadhita. However, if you feel the ambiance of this villa, you may find the truly Bali face in this villa. Villa Ahimsa provides exclusive entertainment stuff in its main living room. The kitchen creates such amazing atmosphere to close with nature and house. Taman Ahimsa is perfect for friends and families to come together and enjoy Bali's tropical treasures whilst also offering private opportunity for contemplation and rejuvenation. Taman Ahimsa emphasizes about the relaxation and refresh with full of tranquility. Villa Taman Ahimsa and Villa Jagadhita are recommended for the best beach house in Canggu area.

Conclusion:

Villa Jagaditha:
- 6 bedroom
- Price start from $2000
- Modern style
- Location: Cemagi - Canggu
- Land size: 4000 sqm
- Floor size: 857 sqm
- Villa capacity: 12 persons

Villa Taman Ahimsa
- 7 bedroom
- Price start from $1750
- Classic style
- Location : Cemagi - Canggu
- Land size: 4500 sqm
- Floor size: 1600 sqm
- Villa capacity : 14 persons


by Duwi Mertiana
Tourist Information | Events | Recent Guests
Designed by CV. Nugraharta Property @ 2013 copyright www.nugrahartaproperty.com