Bali Villas Rental and Sale, BEST DEAL!!!
+62 361 772233
Posted on 11 Nov 2013
Kerobokan is famous for its quality furniture shops. However, the northern part of this area is where the travelers and expatriates that stay in Seminyak look for their gardening and landscape things. It is in this part that Villa Adana is located. Thus we can expect the property to reflect the ambiance of the surroundings. And in fact Villa Adana is known for its unique and original water-related features and landscaping. The pleasant arrangement of the compound makes it popular among travelers. Moreover, it is a very spacious that one can have the greatest freedom of movement during their stay here.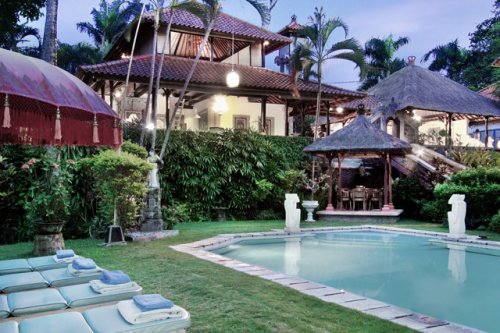 Villa Adana is styled in Dutch/Balinese colonial style. The first remarkable feature that one will perceive at the first time is the vast, 3100sqm private garden. The garden is not a merely furnishing for the spacious space but it contributes to the overall theme of the property. In that garden area, one is spoiled with fully mature trees that provide shade and cleaner air. A large family size swimming pool is available all the time for use by guests. There are tons of natural water features throughout the villa, lush green lawns, and garden sculptures and the unique meditation pyramid feature.

Just like the traditional Balinese houses, Villa Adana separates the bedrooms from the other spaces in the compound. There are three bedrooms in total, consisted of one master bedroom and two en-suite bedrooms. The master bedroom is remarkable and provides greater privacy as it is housed in a separated pavilion. The other two bedrooms are housed in one pavilion and are decorated with world class touches. For yoga and meditation practitioners, the designed has added a special room for such activities upstairs. In that room, the practice will be much helped by the fresh air and the flows of the natural light.

The living room is a space to live in comfortably and get entertained with its 32 inch flat TV screen. Lounging in the living room can be a good alternative if you do not want to get wet in the 12 x 5 meters pool. The dining area is set as a space for the guests to enjoy the meal any time of the day. To complete the enjoyment, the management provides free Internet network for all of the guests during their stay in Villa Adana. To keep things running well, there are two in-house staff to keep the property clean and cooking the foods.

Villa Adana is truly a home away from home falling into the luxury category. Chef Komang is ready every morning to create the best dishes for the breakfast. He is an experienced cook and thus able to cook Western of Indonesian menu. He is able to prepare the lunch or dinner and the foods will delight you and your dining partners. After such a memorable dining, you can invite the partners to get entertained as the villa provides the latest DVD releases for free. With the low rates of the villa, plus free airport transfer, Villa Adana is a real bargain.


by Duwi Mertiana
Tourist Information | Events | Recent Guests
Designed by CV. Nugraharta Property @ 2013 copyright www.nugrahartaproperty.com